Trucking/Tractor Trailer Collisions Attorneys Augusta GA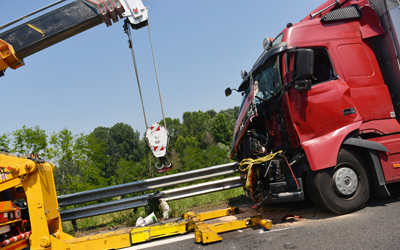 If you're involved in a Trucking or Tractor Trailer collision, it's important that you speak with an attorney who specializes in these types of accidents. The trucking and tractor trailer personal injury attorneys at Nicholson Revell LLP have years of experience successfully litigating trucking and tractor trailer cases.
Insurance companies are in the businesses of protecting their assets and saving as much money as possible. Before you speak with an insurance representative, you should strongly consider having experienced legal counsel on your side as the insurance company is sure to have a battery of lawyers working for them. If you or a loved one are the victims in a Trucking or Tractor Trailer collision, you deserve a personal injury lawyer that is focused entirely on protecting you and your interests while obtaining the best possible settlement or trial verdict.
Tractor-trailers significantly differ in size and weight when compared to passenger vehicles putting occupants of the smaller vehicle at extreme risk when involved in a Trucking or Tractor Trailer collision. The type of injuries victims often suffer include:
Brain Injury
Spinal Injury
Loss of Limbs
Paralysis
Decapitation
Burn Injuries
Wrongful Death
Truck drivers are required by law to meet certain requirements to help ensure safety on the road including logging of how long and how often they are driving and resting, avoiding substances that may affect their performance or distractions in the cab that would remove their focus on driving. When a tractor trailer driver fails to follow these rules, the results can be catastrophic.
Common causes of truck accidents include:
Driver Fatigue
Unreasonable schedules
Unbalanced loads
Overloaded trucks
Faulty equipment
Improper lighting
Lack of clearance under fixed objects
Poor Truck Maintained
Lack of driver training/experience
Intoxication/Substance abuse
Driving in unsafe weather conditions
Other negligent drivers on the road
Speeding
Truck and tractor trailer accident cases can be far more complicated than automobile accident cases. If you or a loved one are hurt or killed in a truck accident, contact the legal team at Nicholson Revell LLP for a free consultation.